Christmas 2003/4
After our last holiday, there was precious little time at home to do Christmas Cards, get presents etc before we were due to go to leave home again. We took Tim and Harry to a wonderful performance of "Wind in the Willows" at the Royal Opera House. They were delighted to find this merry-go-round in Covent Garden Market.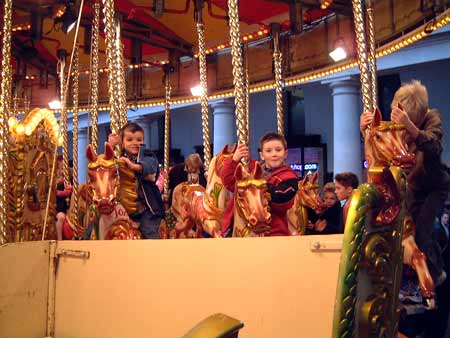 Next day it was off to Argentière in time for brother Brian's 60th birthday party. He had booked dinner for a large party of relatives and friends at the Maison Carrier on 22nd December.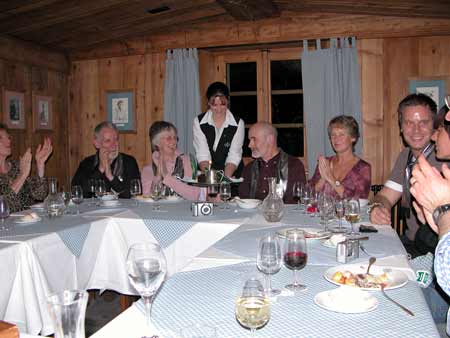 Birthday celebration at Maison Carrier
Next morning, Helen told us that Alex and Olga had just told her that they had decided to get engaged. Everyone had gone to "les chosalets" a gentle slope just opposite our flat for some instruction for the beginners to downhill skiing. It seemed an appropriate moment to open a bottle of champagne to toast the happy couple.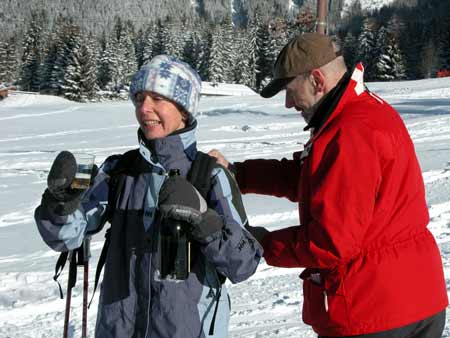 Helen and Brian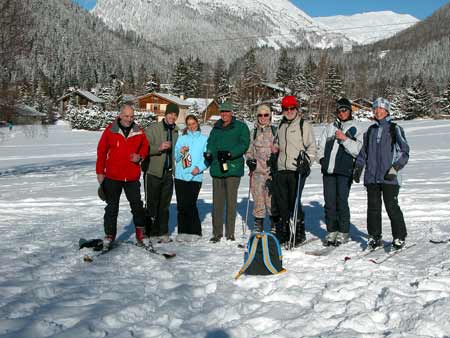 Brian, Alex, Olga, Alan, Marguerite, David, Claire and Helen at Les Chosalets
We had a great Christmas lunch sitting in the sun at Le Tour. It was really fairly quiet and the snow was good although it could have been deeper.
Just after Christmas, Tim and Harry arrived, accompanied by their parents. The Hopkins family kindly loaned them some helmets to ski in. Dad tried banging their heads together and concluded that they passed the test. Harry continued to test his by first head butting the wall and later skiing into a tree!
Their skiing was amazing. Almost immediately, Tim was determined to ski on his own. No grown-ups to accompany him on the lifts, straight lining down the slopes as though he was in training for the Mens's Downhill. Harry, meanwhile was equally independent and quite capable of going on a drag lift all by himself.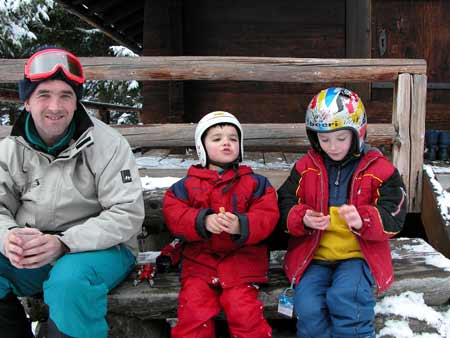 Andrew, Harry and Tim stop for a hot chocolate
New Years Eve in Les Hautes Aiguilles
The UK contingent in Les Hautes Aiguilles all congregated chez Hopkins, bearing various dishes they had cooked and we had our usual riotous party with a great game of charades leading up to midnight.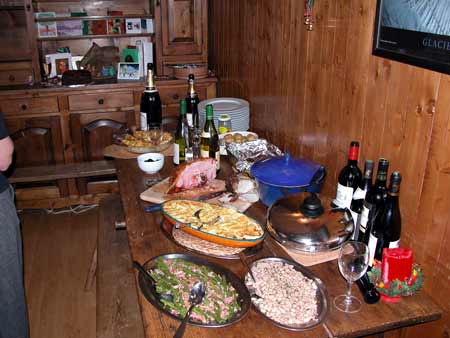 New Year's eve dinner (St Sylvestre)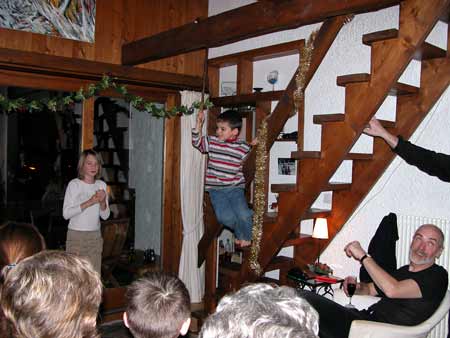 Harry swinging from the rafters on a walking stick.
At some stage during the party someone suggested a ski outing on New Years Day. As usual, we anticipated that the hardened revellers would be nursing their hangovers and that the morning slopes would be be deserted. The outing progressed from being a quiet gentle ski, to a serious skin up to the top of the Grands Montets.
Next morning we eventually got our act together and met up at the Cable car. Our group consisted of Peter and David (both guides), Alan, Steve, Brian, Andrew, Tim and Jeroen (Davids son).
We arrived at the top of the Herse lift (now fitted out with high speed 6 man chairs), to find acres of untracked powder snow above us (the top lift doesn't open this early in the season) On with the skins and we set off up the steep slope, heading for the Col des Rachasses ( 3037m). It was only a 1370ft climb but it did end up at around 10,000ft which is a sure cure for a hangover.
On the way, Jeroen and Andrew lost their skins from their skis d ended up having to boot up the last 150m. Really hard work. Looking at the lovely snow we were climbing it was quite tempting to turn around and ski back down, but our guides reckoned that the snow would be reeeealy good on the other side so we carried on.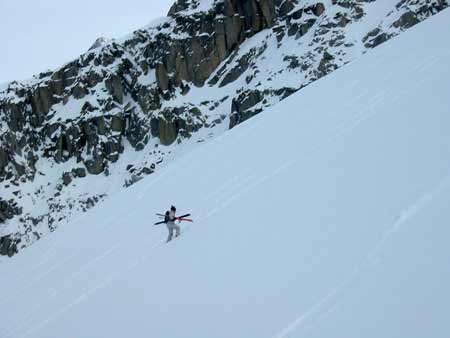 Jeroen (15) practising for Everest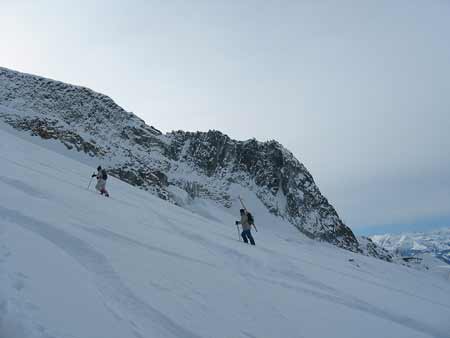 Jeroen and Andrew slogging to the top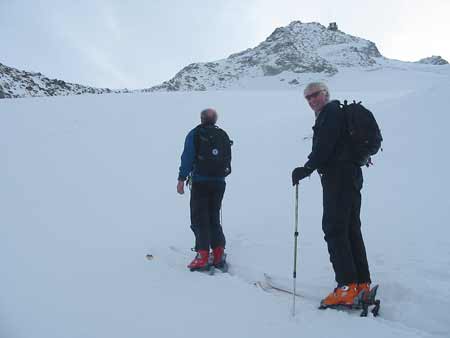 Peter and Alan. Col des Rachasses ahead
Once we were over the Col, the view was stunning, with the Glacier d'Argentiere showing lots of crevasses, as indeed were the various other glaciers feeding it. The Col du Chardonnet looking rather uninviting and I didn't feel any desire for another climb up it!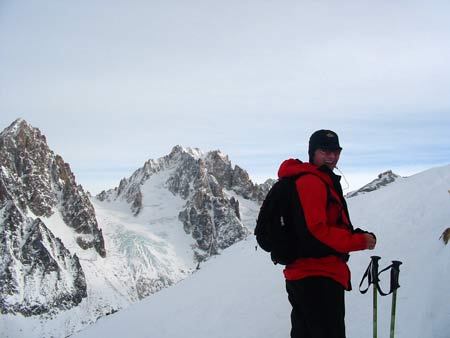 Col du Chardonnet from Col des Rachasses
Our fearless leaders had hoped to ski the Grand Mur, the thought of which terrified me, but the exit looked too rocky. Instead we all headed down the untracked powder towards the glacier. It was great and for the first time in my life, I managed to get some linked turns in! (not many between rests). There were ots of whoops and shrieks and suddenly New Years Day had become fabulous!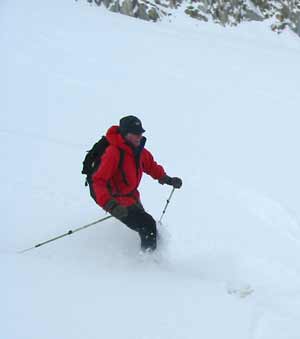 Alan in the Powder