October 2003
A very hectic month with lots of foreign travel - two weddings and a booze cruise!
Ireland
My godson Paul was married to Trish in Ireland at the beginning of the month and we flew to Dublin for the wedding. We had a great time and as we were staying in the same hotel as the reception, we sneaked for a quick half hour snooze before the evening festivities began, Unfortunately we fell into a deep sleep and were woken by the hotel reception to ask if were coming to dinner as everyone else was starting their first course.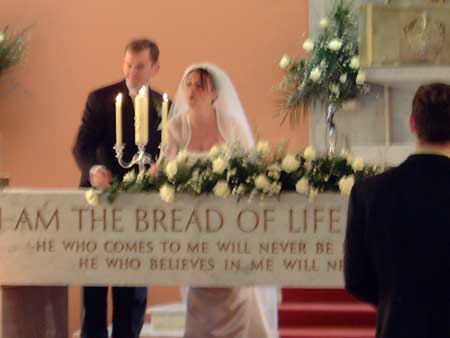 Holland
Alisa's sister Arifa got married to Arno, a fellow doctor in Nijmegen later in the month and so we had another early start flying out to Amsterdam to take a train to Nijmegen for the wedding. Andrew, Alisa, Tim and Harry had driven out the night before. Alisa's parents had come from Sweden and her brother and his girlfriend, Racquel had come from Spain. It was the first time we had met Racquel who is a lovely girl, full of fun.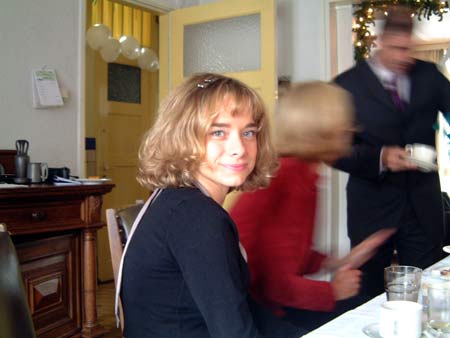 On the train between Amsterdam and Nijmegen, it started to snow and by the time we arrived it looked like Christmas! It soon melted however and we stood shivering outside the old town hall waiting for the bride's car to appear.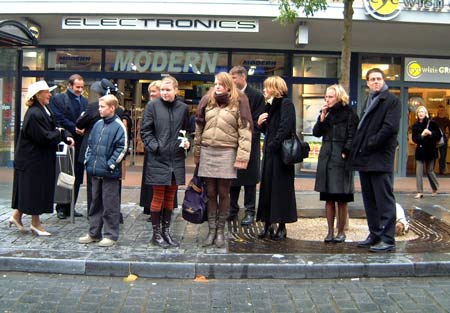 This is the family line-up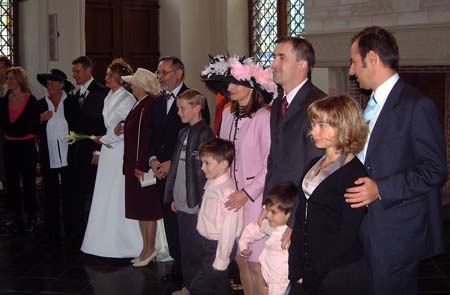 Harry and Tim found the proceedings rather lengthy which I suppose is natural.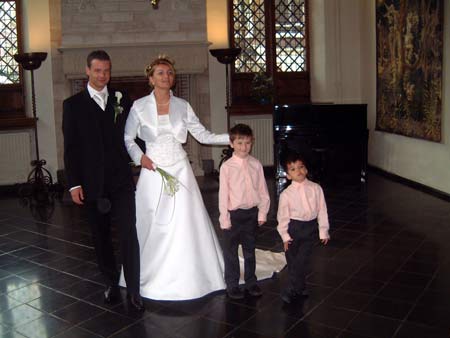 Arifa, Arno, Tim and Harry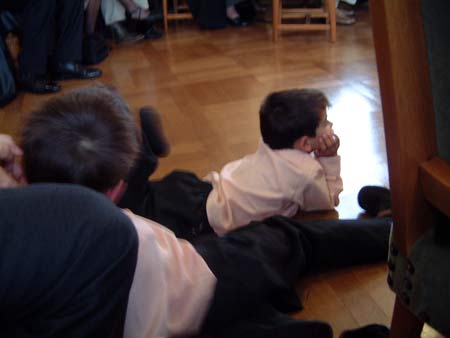 Tefika giving Racquel some good advice.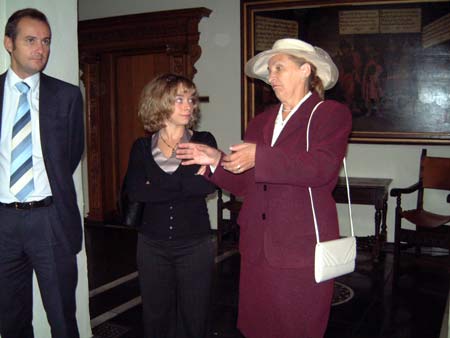 Two proud mothers, Arno's mother Lies and Arifa's mum Tefika.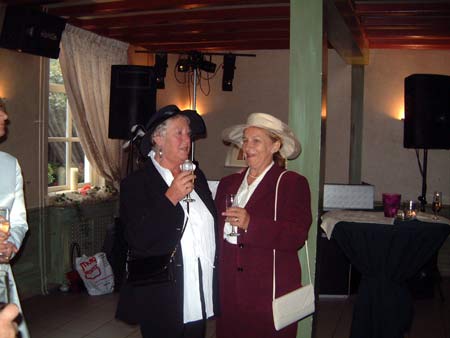 Cutting the cake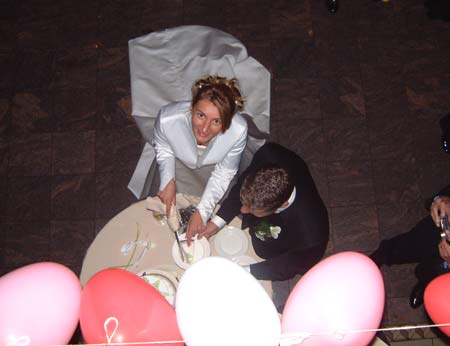 Tim wanted to make a speech but he became a little shy when he had to stand on a chair to do it.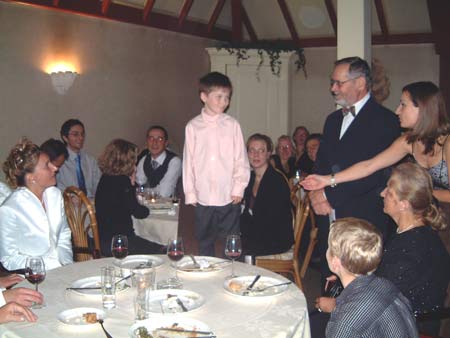 Tim and Harry had a great time in the gallery helping the bridesmaids Lobke and Sarah, blow bubbles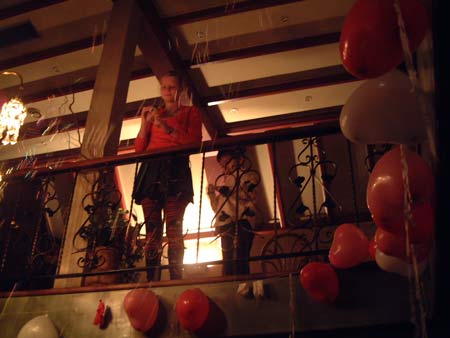 While below, everyone was having a ball!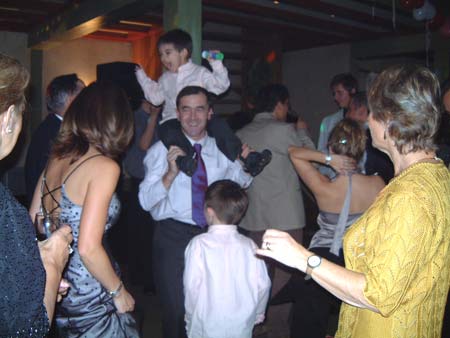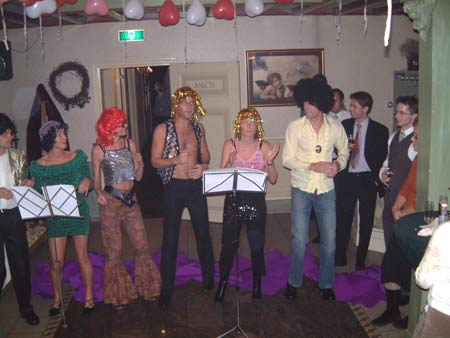 These are Arno's brothers and sister, providing the cabaret.
Lobke and Sarah, the bridesmaids gave a rendition of Arno's virtues to "Summer days". Lobke very kindly translated it from Dutch to English for us.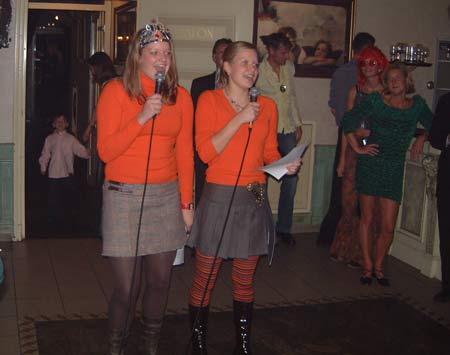 Booze Cruise
The wine rack was looking bare and obviously the time had come for another visit to France. A quick click on the P&O website revealed that they were offering a trip to Cherbourg for two adults and a car with 24hrs ashore for only £20. Too good to miss, so we looked up a nice B&B near to town in Alistair Sawdays wonderful book, rang Madame and booked in to this super place. Just time to wash and brush up and we took off to Cherbourg for a fab dinner with lots of seafood and wine.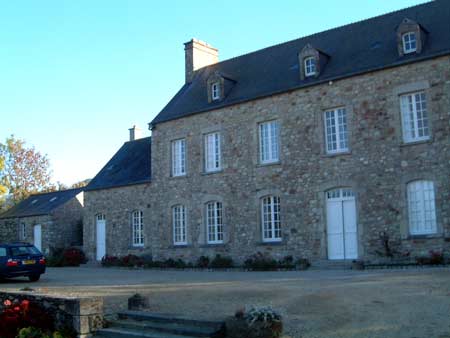 It was very comfortable and next morning after some intensive shopping in Carrefour, Majestic and Normandie Wine Warehouses we found another lovely restaurant and had our second gourmet meal with yet more oysters.
After that we had a few hours to spare so we drove to the North West tip of the Cherbourg peninsular, past France's giant Nuclear Power Station to Goury, a tiny haven on this rocky and dangerous coast.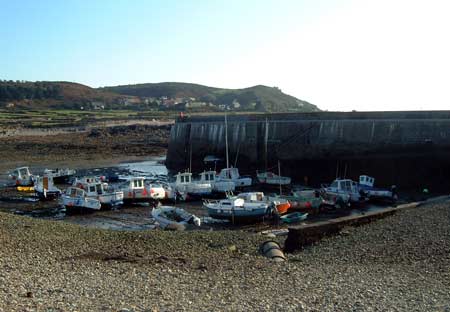 The harbour, I knew was only accessible for a few hours each day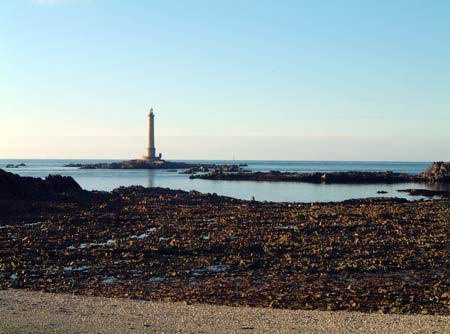 The tide was out, so we could see some of the hazards!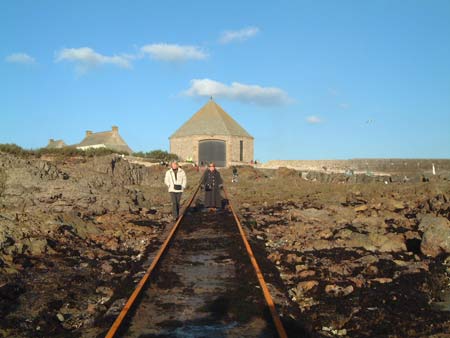 This is the slipway from the lifeboat station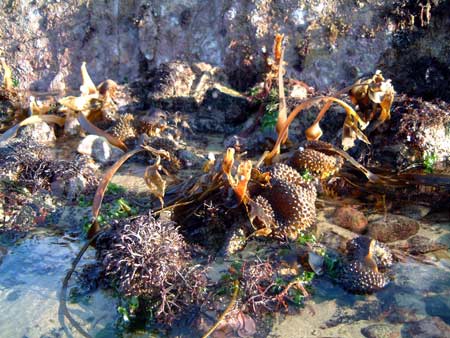 The sea around is just teeming with fascinating wildlife, but I wouldn't like to be here when a gale is blowing