RYA Motor Cruise July 2003
Poole - Cherbourg - Carteret - Guernsey
John Davys sold his Yacht and bought a Motor Cruiser. He very kindly invited Gilly and I to take part in his first real cruise so in convoy with 30 other boats we set off from Poole to cross the channel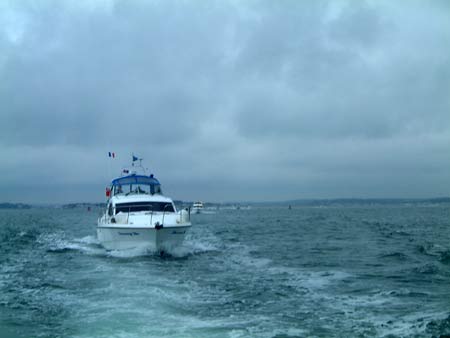 Unfortunately, we had only just opened up throttles when one of the engines failed!! Peeling out of the formation we radioed for assistance and chugged into a little bay, where we were met by Nick, a fantastic character who runs a company called "Seastart" and who was following the rally in his little RIB (a sort of rubber dinghy).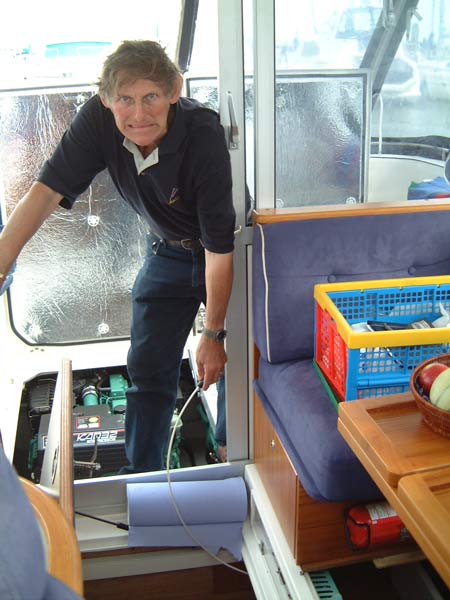 Nick very quickly discovered that our filters were blocked by a horribly slimy black mass, caused by the dreaded diesel bug! We had to limp back to the yard in Lymington where they cleaned them and drained the fuel tank as best they could.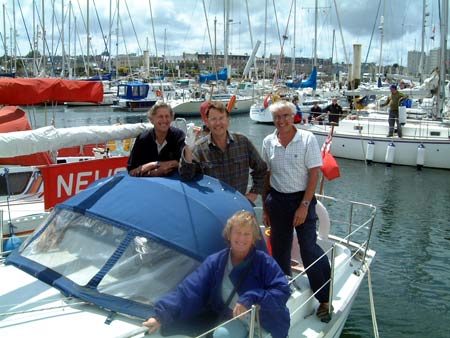 While the rest of the fleet were undoubtedly enjoying themselves in Cherbourg, we mooched around the boatyard wondering if we would make it today. In the end we set off in the evening around 18:00 and arrived in Cherbourg after an uneventful crossing, just before dark.
Nest morning who should we bump into but our old friend Nigel Minchin. Nigel had trained at Hamble with John and myself. He had been crossing the channel in his yacht, the week before, and had developed septicaemia in mid channel from a cat bite on his finger. He spent five days in hospital in Cherbourg before they let him out!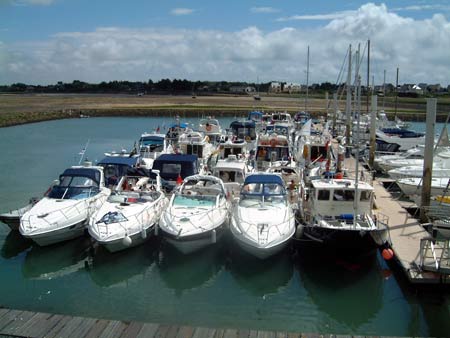 Next morning, very early because of the tide, we set off around the Cherbourg peninsular to Carteret. This was a really rough trip with the boats bouncing like table tennis balls off the waves! However, the weather calmed down after our arrival. Here are some of the yachts.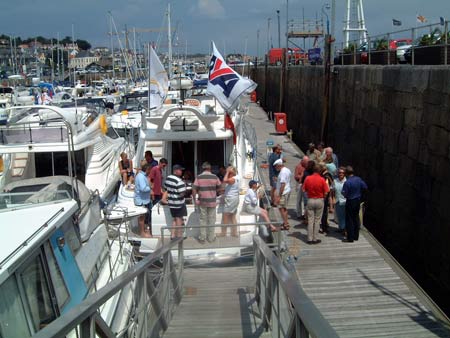 Next day Guernsey where parties on the pontoon seemed to be the order of the day.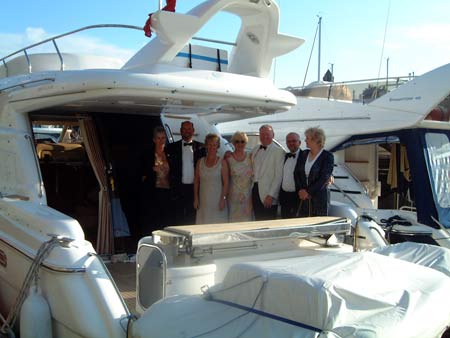 That evening we attended a black tie dinner for the entire fleet.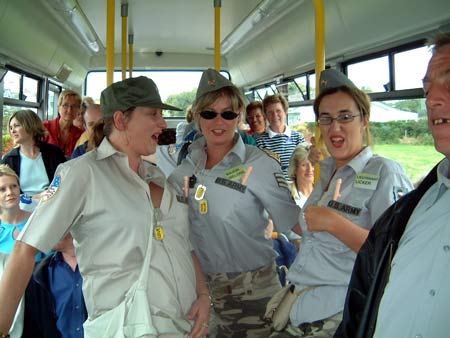 Liz, Gilly and I left the boat in Guernsey and flew back to Southampton. On the bus to the airport, this amazing group of GI's climbed on board.