August 1998 (Couldn't resist keeping this one)
Gilly and I spent some time in Argentiere in August. My brother and his wife , Brian and Helen joined us for a holiday and I indulged my passion for paragliding. Unfortunately I had a slight mishap and adventure. I intended flying down from the top of Les Grands Montets (3,300m) to the field close to our apartment at Les Chosalet. This gives almost 7,000ft of descent. Gilly and the others were to meet me there and I was to tell them, on the radio, when I was taking off.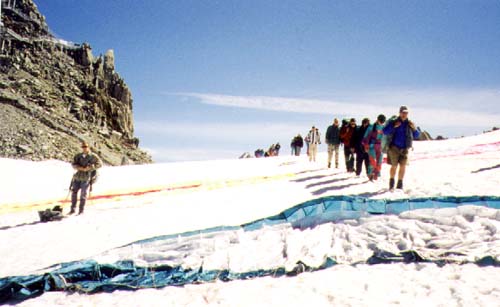 This is the glacier at the top and you can see there are quite few other fliers. The reason they are walking in single file is so that if the first one finds a crevasse, the others don't all fall down it!. That's my wing laid out in the foreground - looks like they are all set to trample over it!
The take off was difficult because towards the pas de chevre (a notoriously steep ski run down onto the Vallée Blanche) the surface was very icy, wet and slippery. Consequently it was important to watch ones step.
I started to run, the wing inflated above me, but instead of really looking up at it to confirm that all was well, I concentrated too much on where I was putting my feet. Just after they left the ground, there was a shout from my friend Dave, who was also just about to get airborne. "Stop", he called. Without thinking, I pulled on the brakes and started to do an "S" turn to make sure I landed again before I went over the edge. I landed OK, but continued to slide on the ice and promptly fell down this yawning great open crevasse, just waiting to catch me. Very fortunately, my wing draped over the edge and I ended up suspended about 20ft down. I gingerly dug my arms and feet into the wall and waited.
Fairly soon, heads appeared over the edge and asked me if I was OK. As there were quite a few people up here they proposed lowering me a rope and pulling me out separately from the paraglider. While this was going on, I heard a voice on the radio. It was Gilly, down in the valley, saying that they were patiently waiting and when was I going to take off? I replied that there was a likely to be a short delay!!! Unfortunately, I don't think she heard this.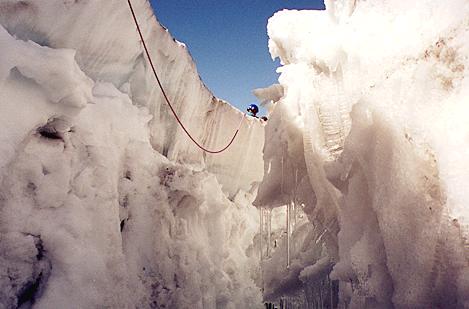 This is the crevasse I fell down - you can see one of my rescuers looking over the edge! At this time in the summer, it was quite a wide crevasse and very deep. I definitely would not have liked to fall to the bottom and I was very fortunate not to hurt myself.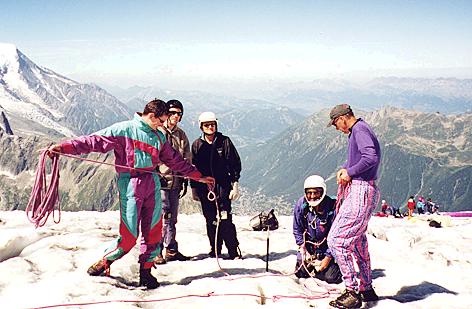 Was I pleased to see these guys. You can see how grateful I am! You can probably also see how rough the ice surface is. That's the Chamonix valley behind me and the town itself.
In retrospect, I should not have tried to stop. It is highly likely that the wing would have properly inflated, but the guys watching seemed to think that one of the tips had tucked. However I still had good directional control before I landed. Also it has certainly emphasised to me how important it is not to start running until you are sure the wing is actually filled. Up to that point, a gentle walk is all that is required.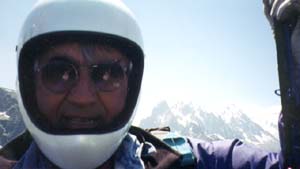 After a quiet sit down and reflection, I had another go. This time the take off went perfectly and I found myself floating serenely over the valley.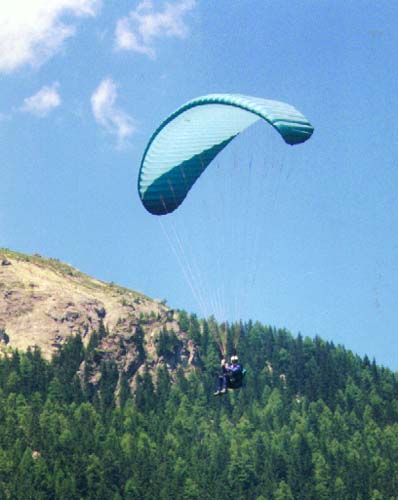 On the way down, I tried to work out my excuses!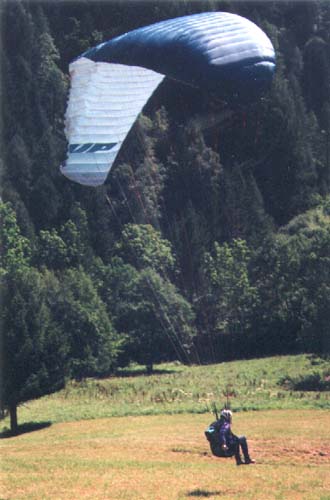 There was a welcoming team, all ready to photograph the landing. Dave had landed first but hadn't said anything about the reason for the delay.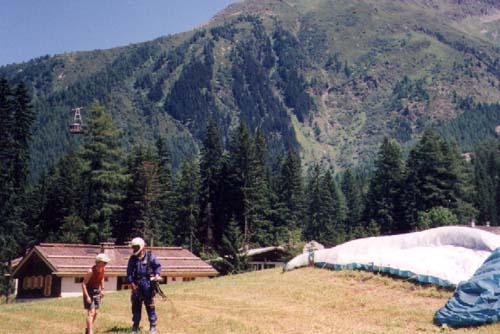 This is the landing site at Les Chosalets, with sister-in-law Helen quizzing me about what happened. No in-flight announcements by the Flight Crew apologising for the delay!