Antigua
November 2004
As usual, we only decided on our holiday venue at very short notice.
I had always been attracted to the "all inclusive deal" where we could imagine we were royalty and not have to constantly dip into our pockets for tips and cash to pay for drinks etc. We had vaguely looked at Sandals in the Caribbean on a previous occasion, but his time we went once stage further and actually booked a two week holiday in Antigua.
It proved to be a great success - the food was great, we met some very interesting people and the Scuba diving was included. The only problem was that it rained fairly heavily for the first week. We even had a brief earthquake one morning!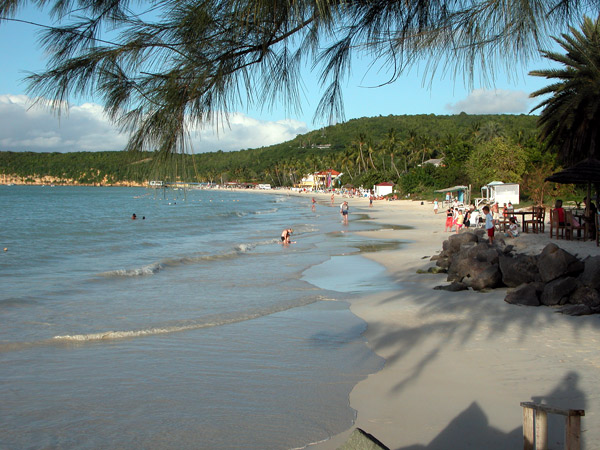 Dickenson Bay from the South
Antigua is reputed to have over 365 beaches and all open to the public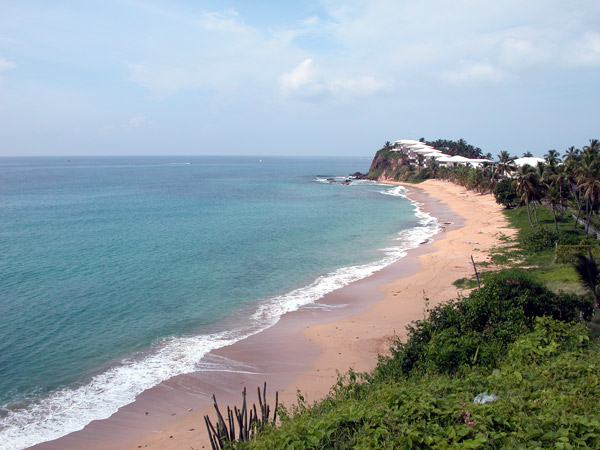 Beach at Curtain Bluff
This wonderful hotel fronts the Atlantic on one side and the Caribbean on the other. We did quite a lot of SCUBA diving on sites just out ot sea here.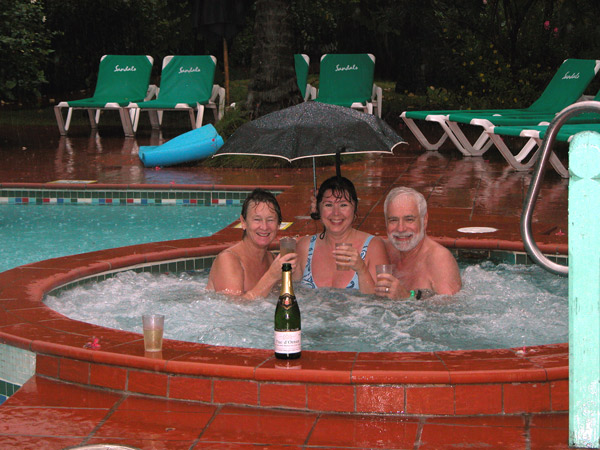 A rainy day in the Jacuzzi
We had an astonishing amount of rain for our first week so together with George and Louise, we decided that a glass of champagne in the jacuzzi was the cool thing to do.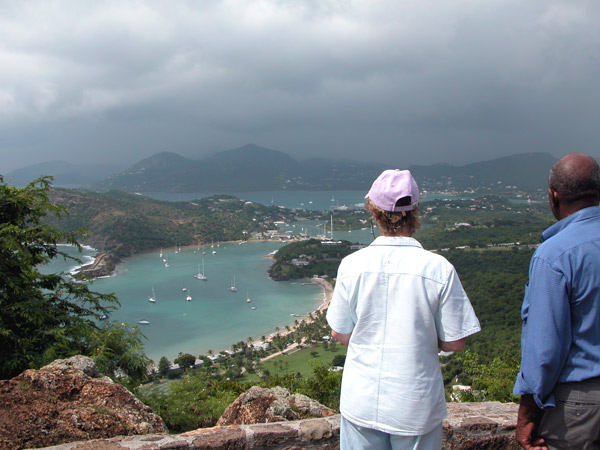 Shirley Heights
Despite the ominous clouds, the view from Shirley Heights overlooking English Harbour is sensational. We sailed out of here eight years ago.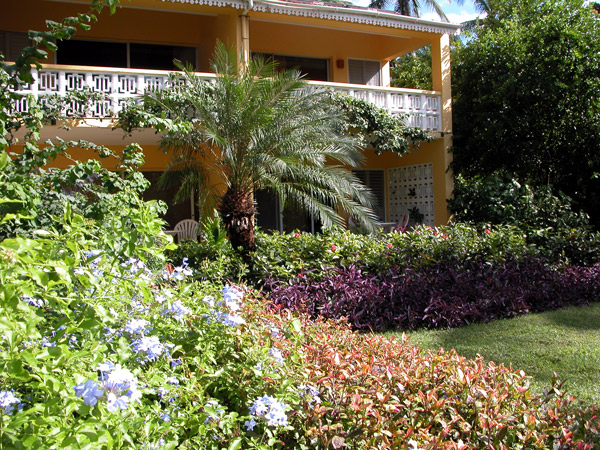 Our room at Sandals
We were given very pleasant room facing the sea (lower right)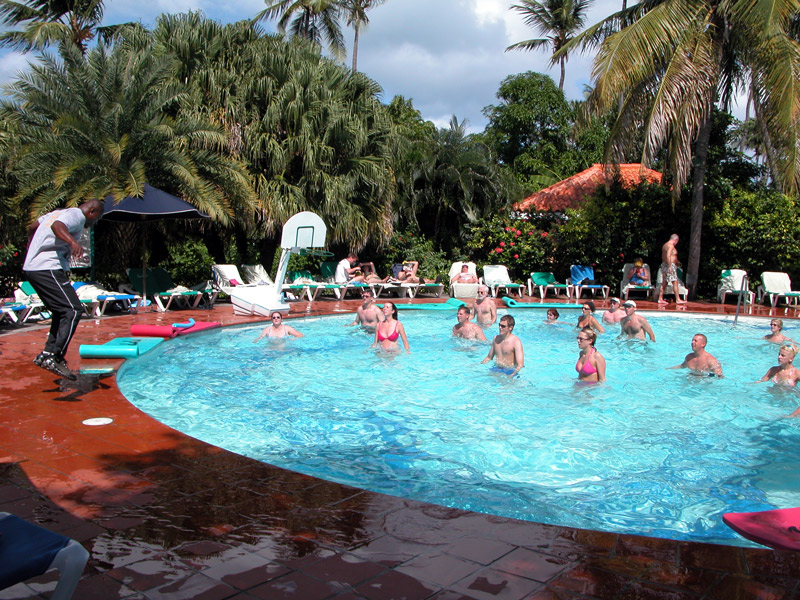 Aquacise in the pool
When the rain stopped at the end of the first week, we started to take some exercise. Gilly is determined to start classes in our pool in Bucklebury. I somehow think the temperature must make a difference!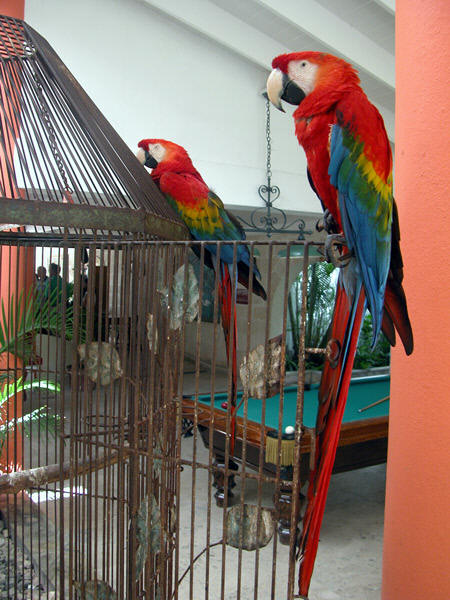 Samson and Delilah, the resident Macaws lived on the outside of their cage during the day.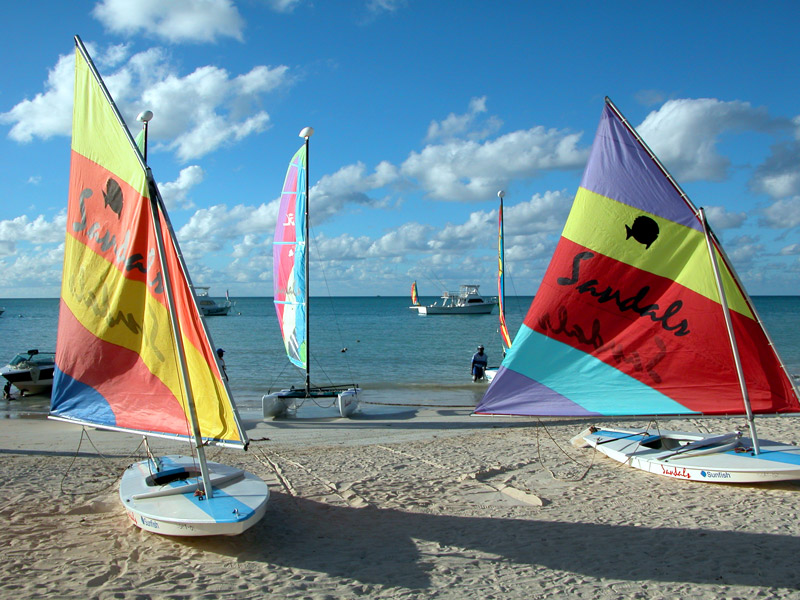 Sunfish and Hobie cats
Part of the all-in package was unlimited use of the hotel sunfish and hobies, as well as waterskiing, diving and free bar service. It's a very civilised way to sail - 30 minutes of hurtling around the bay, beach the boat, hand it to one of the watersport guys and cool off at the beachside bar with a refreshing rum bunch. Then start all over again. Of course you can't do that when you are diving.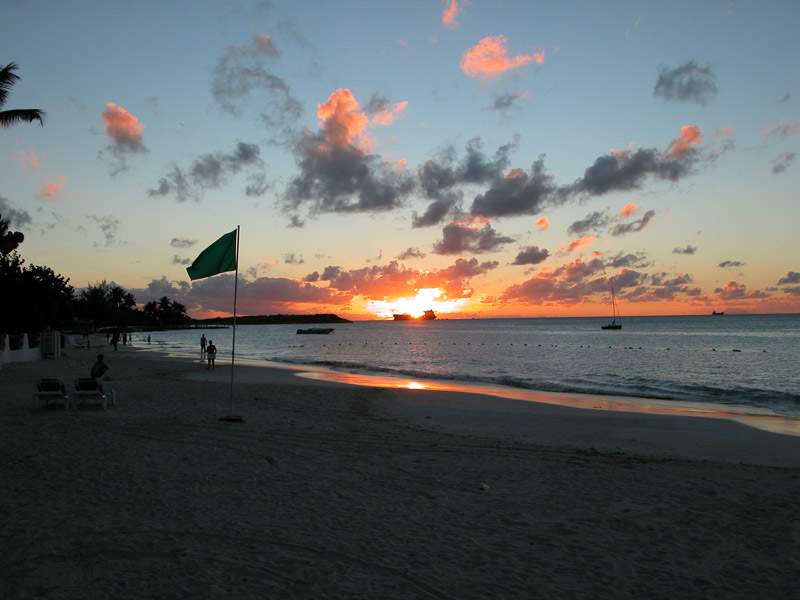 Sunset with oil tanker
When it wasn't raining, everyone gathered at the bar to watch the stunning sunsets. Unfortunately, there was an offshore oil jetty with the occasional itinerant tanker moored directly in line with the setting sun!